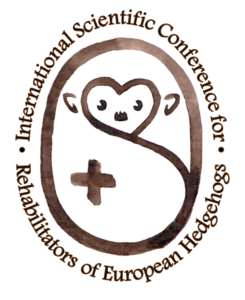 Welcome to the International Scientific Conference for Rehabilitators of European Hedgehogs.
***Update 20th of September 2020: Thank you all for participating in the conference, physically or virtually! We believe the conference was a great success and an important first step for establishing a respectful knowledge sharing network between hedgehog carers, hedgehog veterinarians and hedgehog researchers! We hope to see you all again at the next conference***
Please join our Facebook group if you are a hedgehog carer and want to watch online streaming of some of the presentations at the conference, or wish to take part in the knowledge sharing we hope this group will generate.
***Update 31st of August 2020: We still have some free seats available. Please contact us (info@hedgehogconference.com) if you would like to participate. First come, first served, so we cannot guarantee you a seat ***
***Update 3rd of August 2020: We have decided to proceed with the conference on the 19th to 20th of September 2020! If you are a participant, and have not received an email about this, please contact us (info@hedgehogconference.com) ***
A conference with the purpose of inspiring and strengthening the collaboration between hedgehog researchers and hedgehog carers to serve the common, important goal of preserving the European hedgehog in the wild.
The conference will take place from Saturday the 18th of April to Sunday the 19th of April 2020.
The venue will be Legoland Hotel & Conference in Billund, Denmark.
Participation and accommodation during the conference is free of charge for the 75 participants who have already signed up for the funded seats, due to the generous funding provided from Dyrenes Beskyttelse and QATO Fonden. Travelling to and from the conference is at the participant's own expense.
We encourage all European hedgehog rehabilitators to sign up for participation as we would like to see representatives from as many countries as possible.
The conference will be hosted by Dansk Pattedyrforening/Danish Mammal Society.